ERIKA'S JOURNEY
Preparing a new generation of Indigenous leaders in the Amazon
Photos by Gustavo Carrasco and Reynaldo Vela for USAID
Erika Valera Saldaña's village in northern Peru has long depended upon fishing in the Ucayali River for income and sustenance.
But because of overfishing, the fish they harvest are now skinnier and lack flavor. Like so many in the Amazon, the Kukama Kukamiria people find their way of life threatened by illegal logging and fishing.
Erika hopes to create a better future for her village and her three children.
"As an Indigenous community, we are trying to find a way to involve our representatives in the government so that we can achieve our goals," says Erika.
Traditionally, women in Erika's community have not been encouraged to serve in leadership roles, but they are now increasingly seen as vital advocates for their ancestral territories.
Empowering women and youth is one of the goals of the School of Indigenous Governance and Amazon Development, known as EGIDA, which opened in Peru in 2020 with USAID's support.
It is the first school of Indigenous governance in the Peruvian Amazon.
Erika is among the 35 future Indigenous leaders in the school's second class who are working toward a diploma in leadership, good governance, political communication, and strategic negotiation skills.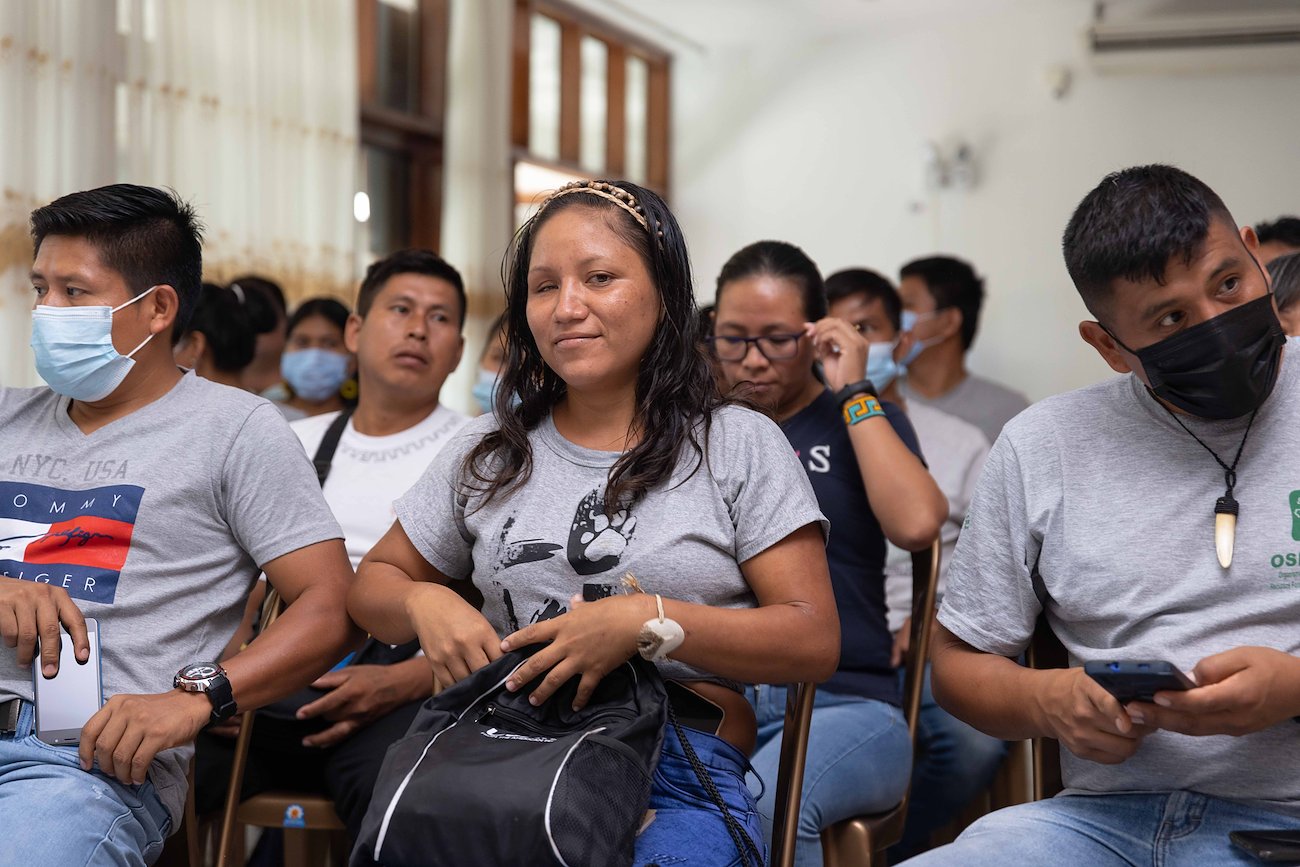 Image
The school's in-person classes allow participants to interact with members of other Indigenous groups, but recorded and live virtual lessons are also available for those who cannot travel and are able to connect to the internet.  
It took Erika 24 hours by boat and bus to attend in-person classes at the leadership training program. 
"Being in EGIDA is very enriching and, at the same time, it is challenging because in my community network coverage is very low," says Erika. "When it rains hard, we lose reception, and that means I cannot participate in the live online classes."
One of Erika's favorite courses is communications because she can practice public speaking. 
"At EGIDA, I am learning what it means to express myself, to coherently say and ask for what I want," explains Erika. 
REVIVING A LOST ART
A course on Indigenous economies has Erika dreaming of reviving the handwoven handicrafts the Kukama Kukamiria are known for and turning it into a business.  
"The traditional skills for handicrafts are dying out in my community," says Erika. "Through this course, we have an opportunity to revive them."
Making handicrafts is just one of many skills she plans to pass along to the boys and girls in her community to build love of her culture, pride in her people, and knowledge to better protect their ancestral lands. 
After graduating, Erika hopes to empower other members of her community to advocate for the sustainable management of their communities so that their lands are less vulnerable to overfishing and illegal logging.
By starting a handicrafts business, she also hopes to inspire others to start business initiatives that will allow them to thrive and be less dependent on income from fishing. 
Watch Erika's Journey as she travels from her home in the Indigenous community of Bretaña to the Amazonian city of Pucallpa for in-person classes at EGIDA. (Also available in Spanish.)
The School of Indigenous Governance and Amazon Development, known as EGIDA, graduated its first class of 30 students last year through virtual instruction during the COVID-19 pandemic. The students represented 13 Indigenous peoples, including the Awajún, Shipibo, Kichwa, and Murui.
EGIDA was developed by the Interethnic Association for the Development of the Peruvian Rainforest, in partnership with USAID and the World Wildlife Fund, as part of the Indigenous Amazon Rights and Resources (AIRR) project.
AIRR works to improve the participation of Indigenous Peoples in the sustainable economic development of the Amazon, including strengthening biodiversity conservation and reducing emissions from forest loss. This contributes to the USAID Amazon Regional Environment Program's goal of reducing the negative impacts of infrastructure projects, extractive activities, and climate change on the Amazon's forest and water resources.